Headlines: Rents increase at fastest ever rate as tenant competition doubles
Average asking rents have increased at the fastest rate on record, and are now £1,068 per calendar month (pcm) outside of London – 9.9% higher than this time last year, and 13% higher than before the pandemic
London rents hit a new record of £2,142 pcm and see the largest quarterly jump of any region (+6.1%):

Rents in the capital have risen beyond pre-pandemic levels for the first time, and are now 3% higher than the beginning of 2020

We predict asking rents will rise by 5% in 2022 as imbalance between supply and demand continues:

Competition between tenants for available properties was nearly double (+94%) in December compared to December 2020
Tenant demand is 32% higher than this time last year
The number of available properties is 51% lower than the same period last year, however it is 7% higher than the same period in December, a sign of availability improving
New Rightmove data on rental yields reveals the average yield in Great Britain is at its highest point since 2016, with record yields in the North East and Wales
Overview
Our quarterly Rental Trends Tracker reveals that asking rents in Great Britain are rising at the fastest rate ever recorded at the start of 2022.
Average asking rents hit annual growth of 9.9% to reach £1,068 per calendar month (pcm) outside of London. This is the highest annual jump on record, recovering from the slowdown in rental growth in the months immediately after the pandemic started.
This rapid growth in average asking rents, driven by high tenant demand and low numbers of rental properties available, means that rising rents are outpacing house prices increases in all but three regions (East Midlands, South West & South East).
Wales (+12.7%), the North West (+12.5%) and the South West (+11%) lead the way in annual asking rent growth, while London hit record annual growth of 10.9%, with asking rents now 3% higher than before the pandemic started – the first time they have risen beyond pre-pandemic levels.
London completes its recovery
At the end of 2020, London recorded a near-record 6.4% drop in average asking rents, as demand shifted away from the capital during another lockdown. Tenants looked for more space outside of cities, flats temporarily fell out favour, and landlords offered tenants willing to stay cut-price rents.
By the end of 2021, London rents are higher than before the pandemic started, as its popularity returned and landlords were able to negotiate higher rents for the new year.
Inner London rents also grew at a record 16.2%, recovering from its drop of 14% at the beginning of 2021, to also rise just ahead of pre-pandemic levels for the first time.
Rental hotspots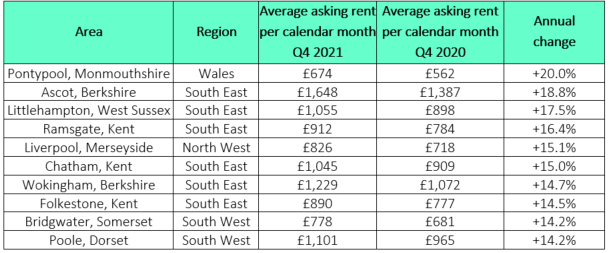 The squeeze on available rental homes
The imbalance between high tenant demand and low rental stock is supporting asking rent rises and has led to competition between tenants for the rental properties available nearly doubling (+94%) compared to the same period last year.
Total rental demand is up by 32% compared to this time last year, while the number of available rental properties is 51% lower. This has led to available rental properties being snapped up by tenants in just over two weeks (17 days) on average.
However, the number of available rental properties is 7% higher than the same period in December, a sign of availability improving at the start of the year.
Flats have seen the highest increase in competition compared to last year (+132%), followed by terraced houses (+40%) and semi-detached homes (+30%).
Landlord yields
New Rightmove data reveals that the average yield across Great Britain is 5.5%, which is the highest yield since 2016 when it was 5.6%. The North East & Wales have hit record yields, while yields in London, South West and Yorkshire are at their highest since 2015. Yields in the East of England and South East are at their highest since 2016.